What a crazy year it's been, very surreal in many ways as we come down to the final weeks of 2020. 🙏💙
While there's a longer update to come, I'd like to start by sharing an event we're hosting next week: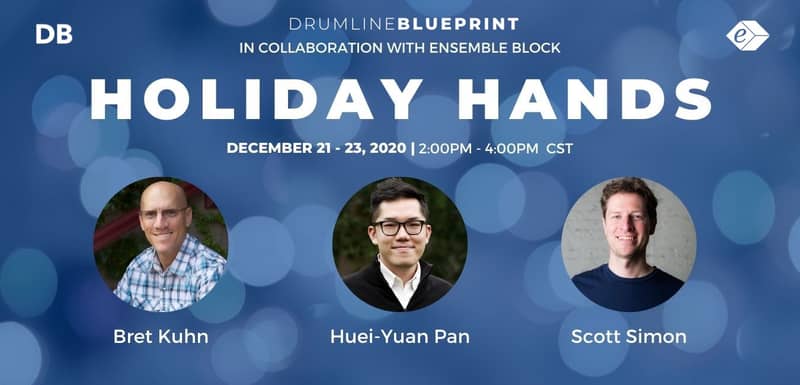 Bret Kuhn: former Caption Head and Percussion arranger with 6 World Championships and 5 High Percussion Awards, currently Ensemble Specialist with the Cavaliers, and adjunct faculty at Northern Illinois University
Huei-Yuan Pan: former member of the Cavaliers (2002-2004), Percussion Caption Head at Phantom Regiment Drum and Bugle Corps (2013, 2014), Co-Founder of Drumline Blueprint and Ensemble Block, author of the Marching Percussion Playbook
Scott Simon: former member of Phantom Legion, Blue Stars, and Phantom Regiment, First Place at DCI I&E for individual tenors (2002), staff member with Phantom Regiment from 2007 – 2010 and Santa Clara Vanguard in 2011 and 2017
---
Think Soul Cycle meets drumming!
We'll be hosting a 3 day session with lots and lots of playing, with multi-level variations that allow the beginner, intermediate, and advanced players to all play alongside each other with the variation that is most comfortable for you.
As former session attendees can attest, there is a tangible power of community that comes with attending events like this.
We are thrilled to bring Scott on to provide some tenor expertise this time around to expand everyone's knowledge and appreciation for those heavy, heavy drums…
This event is perfect for students and teachers looking for information, inspiration, and some energy to carry you through the upcoming winter break.
While I find myself wearing many different hats in a single week, there's something about sitting down and getting to play for 30mins or 60mins that brings me back to my center. It's guaranteed you will feel better after attending each session.
We'd love for you to join us live, and but if you're unable to, as usual the video replays of each day's session will be available to access afterwards.
If you have any questions, please let me know. Otherwise, I hope you're doing well, and hope to see you next week!
Huei
---
Please help by sharing with your teacher and student friends!
For more information and to register, please visit:
https://drumlineblueprint.com/classes/